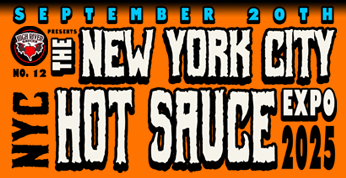 WHAT IS THE NYC HOT SAUCE EXPO?
The New York City Hot Sauce Expo Incentive: To give you a small jolt of capsaicin that will excite the nervous system into producing endorphins, which promotes a pleasant sense of well-being.
As Americans steadily become more adventuresome eaters, we are now setting a place at the dinner table for hot sauce on a regular basis. Our mealtime macho has triggered a hot sauce growth spurt so great that hot sauce production has been rated one of the 10 fastest-growing industries in the U.S. The trend shows no sign of cooling off.
Come to Brooklyn for this 2 day Fiery Foods Festival to get the ultimate endorphin rush. The weekend promises to be packed with entertainment with live music, fire breathers, spicy food vendors, awards show, eating challenges & contests, adult beverages and the BEST Hot Sauce Companies from North America. There isn't a better place in NYC to get your food cranked up.